Sixth Form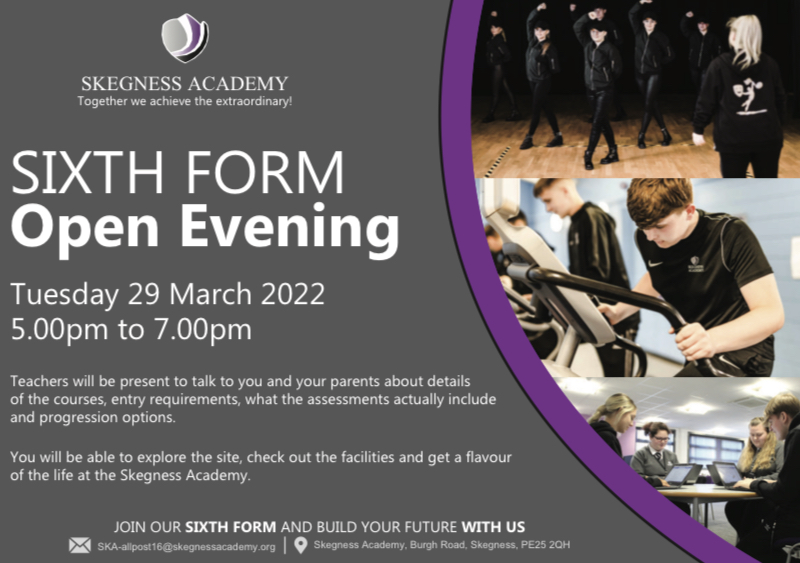 Welcome to the Year 12 Open Evening Which is being held on Tuesday 29 March 2022 between 5.00 pm and 7.00 pm
An Open Event is a great way for you to learn more about the Skegness Academy Sixth Form and discover whether it's the right place for you to continue your education. Take a tour of the Academy for a sense of what it's like to study here, see the facilities and check out the social and study spaces. As you'll be spending a lot of time here over the next few years, it's critical that you can imagine yourself in the environment.
Teachers will be present to talk to you and your parents about the details of the courses, entry requirements, what the assessments include and progression options.
Hear directly from our current students about what life is really like at the Skegness Academy Sixth Form. Our Presidents, Chair, Deputy Chair and Ambassadors will be ready to answer any questions and take you through a day in the life of a student.
You will be able to explore the site, check out the facilities and get a flavour of the life at the Skegness Academy.
Students in Year 12 (2022/23) will study three subjects from the course guide list below. As part of the wider curriculum, students will have a variety of activities which is called the Super Curriculum. These are timetabled sessions and support the next stage in their educational journey, career development and RSE/PSHE.
Students who have not been successful at meeting the entry requirements for the level 3 courses can enquire about repeating the level 2 pathway.
Our prospectus is available for download in section below. It outlines the Level 3 courses and qualifications available to students wishing to join us.
Preparing for the next stage in your education is key.
Click here for the Course Guide
To Apply for Sixth Form
Click here for the Application Form
Having access to the right information from a reliable source is imperative. Along with being inspired about your future is paramount.
Skegness Academy also reserve the rights to withdraw a course if there are insufficient number of students wishing to take it up and/or due to availability of teaching staff.
If you have any questions, please do get in touch using the email address